I spend most of my day browsing online stores for pretty goodies! So when I saw Megan do a post for a competition, held by Money super Market, 'passion for fashion', I just knew it was perfect for me to be involved. So as per usual, I spent my evening browsing at pretty things, most of which I already had saved in various shopping baskets and wishlists. The categories are, 'party wear', 'casual wear' and 'holiday wear'. I don't think I could pin point what one ended up being my favorite because I am such a shopaholic I would love it all. However, for so long now I have wanted the gorgeous balloon dress by Nishe, sold on Asos. It would be wonderful to win this competition, just in time for some sunshine and wardrobe update! Yes please.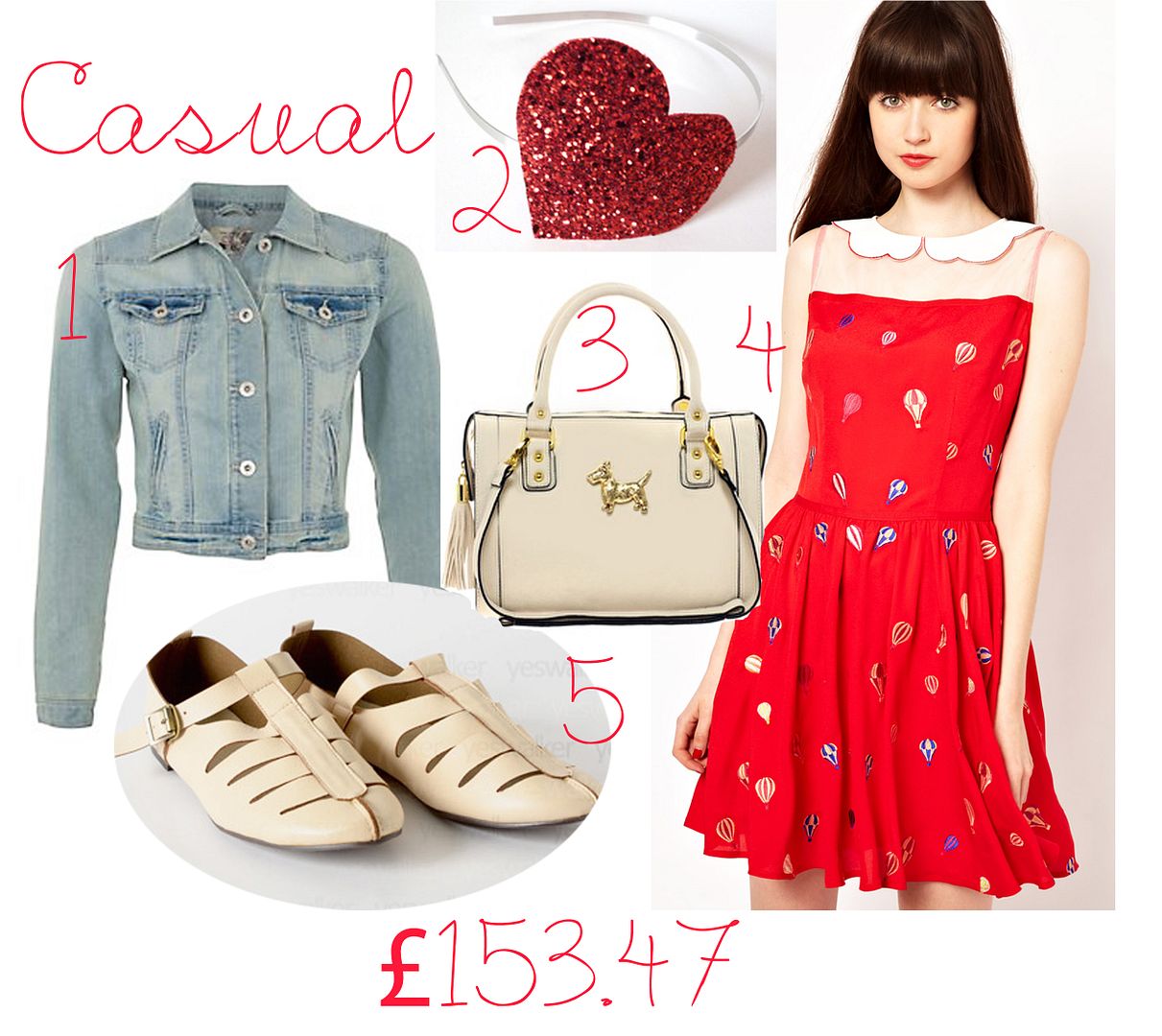 Casual
1. Denim Jacket - Newlook, £17.99
2. Glitter heart head band - Crown & Glory, £5.00
3. Cream Hand-bag - Asos, £35.00
4. Balloon embroidered dress, Nishe at Asos, £70.00
5. Cutout Sandals - Yeswalker, £25.48
For my casual look I went for a fun, bright and colourful summer theme. As all I want right now is for the sun to start shining and the birds to start tweeting, shopping this look made me feel positive. As I live near the seaside on the south coast, I would love wearing this outfit on the beach, whilst eating a large ice cream of course. My favorite part of the look is the cute red dress, with embroidered balloon detail! I think it is such a perfect summer dress with the playful collar and skater style skirt, it would be a treat to own. I went with some perfect summer accessories including a denim jacket for the nippy seaside air, some cute but comfortable foot wear that are extremely versatile and to top it all off, the red glitter heart head band. I think this would be my staple look in the summer and I will definitely be saving the pennies for that dress!
Party
1. Pale pink waterfall blazer - Newlook, £24.99
2. Faye lace black & white dress - Topshop, £65
3. Sequin & lace collar necklace - Newlook, £7.99
4. Floral ditsy frill socks - Topshop, £3.50
5. Blush platform sandals - Asos, £50
It's Friday, Friday, gotta get down on Fridayyy. Okay, so I'm not really the 'going out' kinda gal. I do prefer my pajamas and a cup of tea, however when I do go out I plan my outfit weeks in advance. So when it came to shopping this party themed look, I felt very comfortable combining a very girlie style I would happily wear out. I could see myself wearing this to a friends for a girls night, or out for cocktails, or even to the pub for drinks (mocktails for me). There isn't one thing I can pin-point in this look because I think overall the items are made for each other. I am a massive fan of wearing socks and heels on a night out and these beauties are a classic example of what I would love! The blush platform sandals are gorgeous and would look great worn in the day and at night, what makes them work is the matching peach flowers in the socks and blazer. The dress is the sort of shape I would feel comfortable in, as I like something fitted on my waist. To make it more of an evening theme, I added the pretty collar necklace and blazer to smarten it up but still keep my signature 'cute' feel to the whole thing.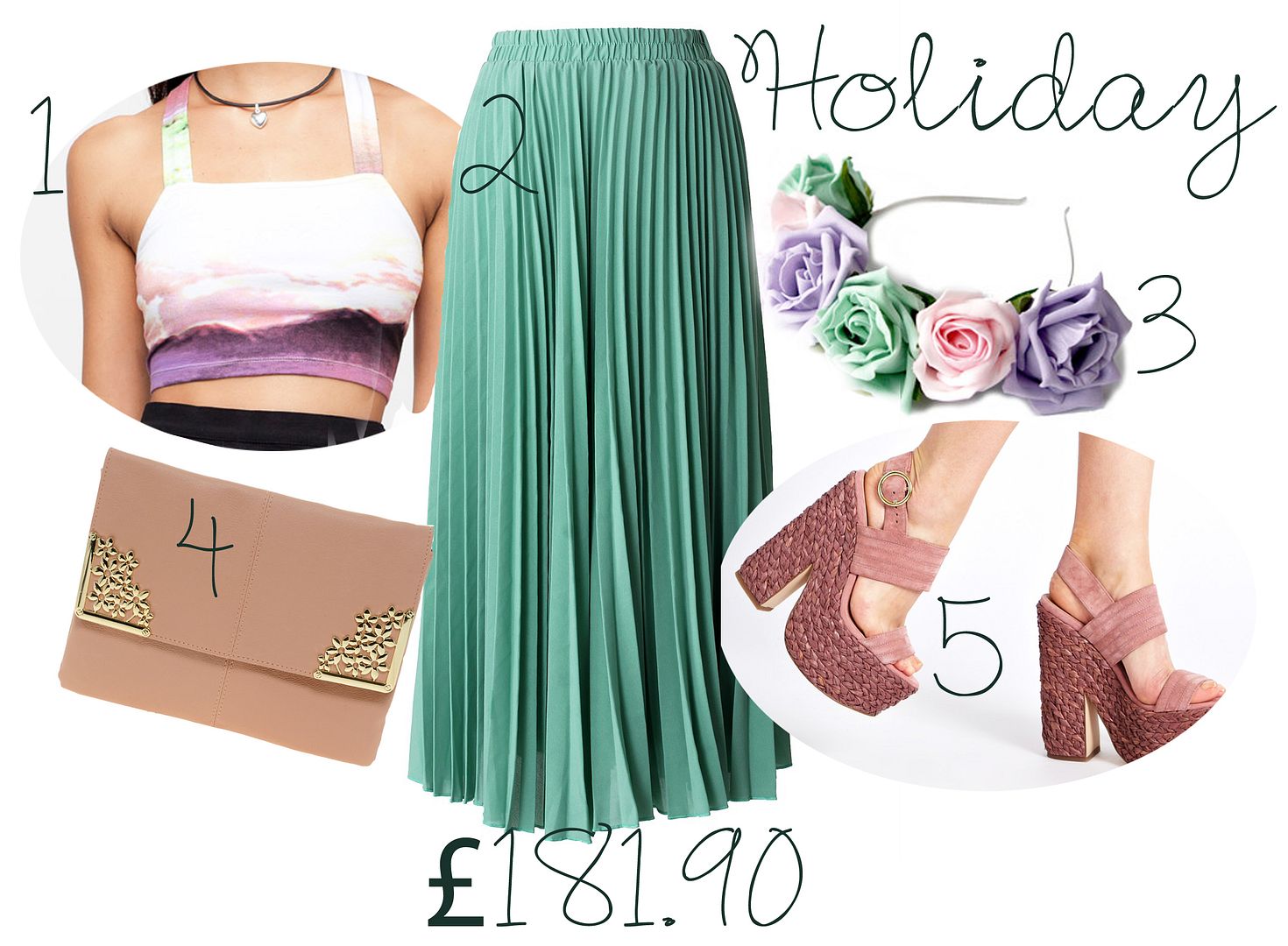 Holiday
1. World Print Bralet - Motel Rocks, £22
2. Pleated Auqa Maxi Skirt - Chicwish, £49.90
3. Pastel mixed rose crown - Crown & Glory, £20
4. Peach Clutch Bag - Asos, £25
5. Platform sandals - Asos, £65
Last but not least, I indulged in some holiday buys. Not that I will be lucky enough to afford the sunshine and sand of a tropical island but here's hoping. I think I would wear this outfit on a warm summer's evening to a bar or restaurant in England (just got to hope for a good summer now). I think I found this outfit the most fun to put together, not just because it got me dreaming of sunny waters and cold lemonade. The colours are so bright and I loved mixing the pale pastel pinks and lilac with the more vibrant mint. I have had my eye on this skirt since the end of last summer, but it was too late to buy it and the cold started creeping in. So, this year I know I just have to own it. I chose to team it with this statement bralet from Motel Rocks, because if anyone does great holiday wear, it's them. In this outfit I would feel extremely pretty and ready to strut my stuff. The skirt is pretty, the bralet is edgy and the rose headband and heels are whimsical. Probably my perfect mix of fashion and fun!
I hope you enjoyed my looks, please share if you like them with the hashtag:
#PassionForFashion2
Thank you!